So I just wanted to do a quick post and shout out to a couple of blogs that have featured my entryway! I"m so excited to finally have a few pageviews! ha...I know that's not what it's all about, but it's fun to see that people I don't know are reading what I'm writing. It makes me giddy excited.
Anyways,
I was featured a few days ago on the one and only Tatertots and Jello on their
20 ways to get organized in 2014
post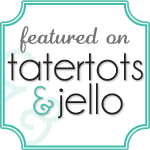 And last night I was featured on Oh My Creative on their
10 DIY made from wood home projects
Make sure you check out those lovely blogs!
I will be back with my next crafty project very soon! I'm feeling like I need at least ONE thing Valentines around here. We shall see what I come up with!
Thanks and have a great day!
xoxo
Anna